The process of songwriting/ recording/ mixing/ mastering
May 2014 I began writing and recording the new stuff. Already had a flow of ideas in the bag, so no worries in that department. I've been spending a lot of time mixing and mastering the songs though. Youtube and other friendly sound engineers helped me out with the technical know how much more further. Yes, I try to learn about every aspect of the process. Next time I hope to do things much more efficient in the recording process.
Inspiration for the title
Every year I try to come up with another appropiate title that epitomise what these songs stand for.
Guess Zappa's quotes brought me the one that connects those 12 songs.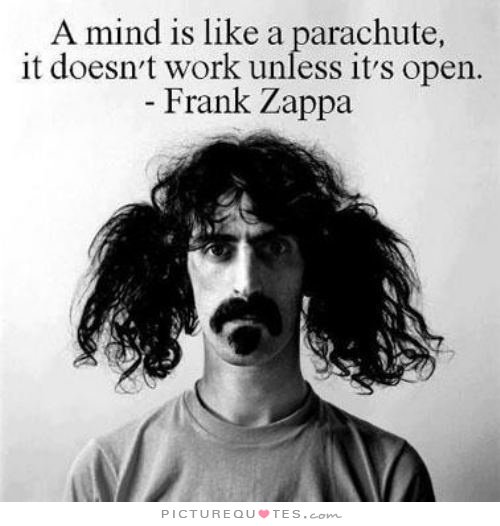 And...I already had a few songs with a "parachute" reference. Your mind only works if one opens it. With songwriting, that seems not that difficult for me. Just jump fearlessly into the free air...just dare.
That introvert face on the frontcover stands for my introvert side and my wife's selfie reflex has captured that right on the spot.
I sort of invite you all to
open up my parachute
and you'll see/hear...... the songs will jump out of my head.
(next: released a parachute and where did it land?)
You've listened already? Here's some information about the 12 parachutes. I think this is my most accessible and dancable record so far, so let's follow our restless feet, while reading. Hope you like.
It's all in the mind
01.Chalky
A burst of restless energy I tried to put down in a tight fit arranged funk. Started as one of the first new songs for this album, inspired by the dense grooves of 1980's Remain In Light era Talking Heads, but heading (totally?) elsewhere eventually. The working out of the tightness in accents and the finishing of various arrangements took me almost a year, before I was really satisfied. I am now.
02.Dancing Dutchman
A little nostalgic throwback to my numerous dance moves I left on the dancefloor hearing those seventies soul (Chic, Kool & The Gang, Rose Royce, KC & The Sunshine Band) in those after midnight discotheques. Proud of the melodic chorus and the groove, which convinced me to put on my dancing shoes again.
03.Everything Is A-Okay
Is it okay? Most of the time. With this song I think I've reached a very accessible side of the melodic and the rhythm of exotic coolness with a few instrumental adventures in the middle too.
04.Jump For Your Life
Searching for that parachute that brings joy and playfulness. Just jump and watch what happens. Old fashionated pop and bluesy funk.
05.The Riddle Room
One song idea from the last album sessions that needed more time to develop. Just a funny motive on piano started another riddle in my room.
06.It's A Struggle Honey
Two ideas (one melodic, another rhythm) put together in dreamlike fashion. An old trick: use that mod & pitchwheel on the keyboard. I freaked a lot throughout the album.
07.Hipster Mind
Hipster was the word of 2015 (but it's so old), but the hipness is gone. A piano & guitar motive accent on a pulsing groove pushed this into a song. Starts off like an voice-over intro to a hip chatty radioshow, but that slow, threatening groove gets in the way.
08.Issues?
The question mark says it all. I connected this funky bassline with a accenting guitarpattern and voila. Just dance the seventies (Gap band, Ohio Players,...) to it.
09.Parachute
A song for superman! Slapstick enters. Silent movies. Finally flying! Goofing off.
10.Cosmopolitan Circus
Instrumental stuff to rest my voice. I liked working on this a lot. It's different. A bit Kurt Weilish. European vaudeville? I recorded piano parts in a few takes. I put a few "hymnlike voicing" plugins on the melodies for the angelic atmosphere. Proud of this.
11.The Slippery Slope
Inspired by the 1965 movie "Mirage" featuring Gregory Peck. I like mystery, so a song developed from there. It begins and it ends more or less the same.
12.Ha Veda Va
Latinesque. That chant doesn't mean a thing, just a few fitting spanish words put together for us to sing: Ha= it has. Veda= farewell. Va= will. Cryptic? Yes maybe, but what does "trolololololo" mean? Hope I don't offend anyone.
Solo on keyboard at the last part, that's me pitching the sound, combining horns, organ and guitar.
That's it folks, my story. Maybe you listen to these songs with other ears now.